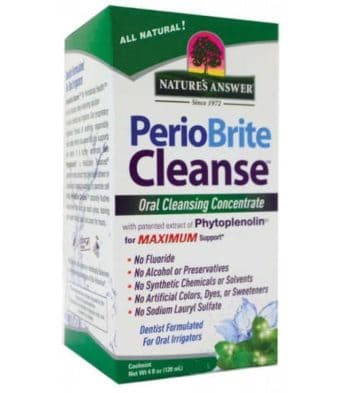 Product Description
All Natural Oral Cleansing Concentrate for Use in Oral Irrigators
.
Including Echinacea, Green Tea, Olive Leaf, Oregano and Black Walnut Green Hulls
.
With Coenzyme Q10 & Folic Acid
.
Patented Extract of Phytoplenolin®for Maximum Support
Dentist Formulated
Cool Mint
No Fluoride, Alcohol or Preservatives
No Synthetic Chemicals or Solvents
No Artificial Colors, Dyes, or Sweeteners
No Sodium Lauryl Sulfate
Gluten Free
Cruelty Free
PerioCleanse for Periodontal Health is an all-natural, deep cleansing solution for use in dental oral irrigators.  Our proprietary vegetarian formula of soothing responsibly wildcrafted herbs plus essential oils supports oral health.  It is further enhanced with Phytoplenolin®, a Holistically Balanced patented herbal extract that has been shown in independent laboratory studies to promote cell vitality.  PerioCleanse naturally flushes around teeth and hard to reach areas, leaving your mouth feeling fresh and clean for hours.  Use PerioCleanse regularly to maintain healthy gums.
Safe for cosmetic dentistry.
Ingredients: Phytoplenolin (centipeda cunninghamii extract), bio-chelated extracts of calendula flowers (calendula officinalis), chamomile flowers (matricaria recutita), echinacea tops (echinacea purpurea), gotu kola whole herb (centella asiatica), prickly ash bark (zanthoxylum americanum), olive leaf (olea europaea), grapefruit seed (citrus grandis), black walnut green hulls (juglans nigra), green tea leaf (camellia sinensis), essential oils of peppermint (mentha piperita), oregano (origanum vulgare), lavender (lavandula angustifolia), clove (eugenia caryophyllus), eucalyptus (eucalyptus globules), thyme (thymus vulgaris), cinnamon bark (cinnamomum zeylanicum), bio-saponins [yucca spp, quillaia (quillaiasaponaria) bark, sarsaparilla (smilax regelli) root, wild yam (dioscorea villosa) root], folic acid, co-enzyme Q10 (ubiquinone), aloe vera (aloe barbadensis), chlorophyll.
Base Ingredients: Purified water, vegetable glycerin.
Free of preservatives, alcohol, synthetic chemicals and solvents, sodium lauryl sulftate, artificial sweeteners, colours and dyes.
Per container: 120ml
Suggested use: Add 2 pumpfuls to 10 oz. (300 mL) of warm water in an oral irrigator's reservoir.  (For advanced periodontal support use 4 pumpfuls.)  Using low to moderate pressure irrigate around teeth and gums.  Flush irrigator with fresh water after each use.  Do not swallow.
For best results do not eat or drink for 10 minutes after use.  Use once a day or as directed by your dental professional or physician.  Shake well before use.  Visit your dentist regularly.