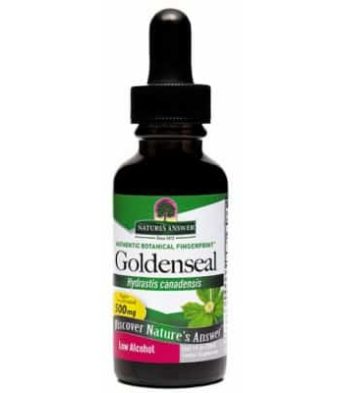 Product Description
Alcohol-Free Fluid Extract (1:2) of Goldenseal (Hydrastis canadensis) – Promotes A Healthy Immune System
Holistically Balanced
Kosher Parve
Responsibly Wildcrafted Herb
Bio-Chelated Cold Extraction Process
Nature's Answer alcohol free extracts are produced using alcohol, water and natural extractants.  All alcohol and extractants are then removed through our cold Bio-Chelated proprietary extraction process, yielding a Holistically Balanced standardized extract. Liquid extracts are absorbed faster than tablets or capsules, and are more potent than tinctures.  Holistically Balanced guarantees that the constituents of the extract are in the same synergistic ratios as in the plant.
Ingredients:  Goldenseal root extract (1:2).  Equivalent to 500 mg of Goldenseal root.   Guaranteed to contain a minimum of 5 mg. of Hydrastine and 10 mg. of Berberine. Other Ingredients: vegetable glycerin and purified water.
Per container: 30ml
Servings per container: 30+
Suggested use: For short term use (up to 10 days) take 1/2-1 mL (approx. 14-28 drops) 3 times a day in a small amount of water, or as suggested by your qualified health care professional.  Shake well.
Keep out of reach of children.  Do Not use if pregnant or nursing.  Do Not Use if safety seal is damaged or missing.