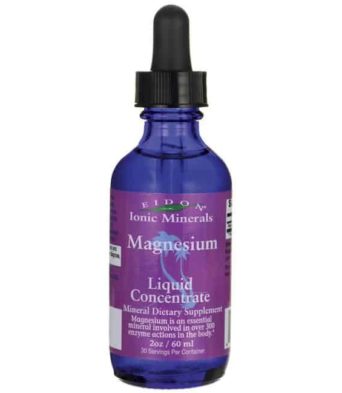 Eidon Ionic Magnesium 60ml
Product Description
Magnesium is an essential mineral that is involved in more than 300 enzymatic actions in the body.  It is necessary for normal tissue growth and development, cellular energy production, immune system function, cardiovascular health, calcium management, and muscle and nerve relaxation.
Magnesium is pivotal in the maintenance of normal intracellular calcium, potassium, and sodium levels.
Magnesium is an essential electrolyte crucial for healthy cardiovascular function.
Eldon's Ionic Magnesium chloride is the preferred form of many experts:
Magnesium contributes to a reduction of tiredness and fatigue
Magnesium contributes to electrolyte balance
Magnesium contributes to normal energy-yielding metabolism
Magnesium contributes to normal functioning of the nervous system
Magnesium contributes to normal muscle function
Magnesium contributes to normal protein synthesis
Magnesium contributes to normal psychological function
Magnesium contributes to the maintenance of normal bones
Magnesium contributes to the maintenance of normal teeth
Magnesium has a role in the process of cell division.
Eidon Ionic Minerals are 100% bio-available, 100% vegan, made from natural sources and do not contain any additives, preservatives, fillers or synthetics.
Magnesium

Nutrition Information

Serving Size: 30 drops

Amt./serving

RDA*%

Magnesium (as magnesium chloride)

80 mg

21%

*EU Recommended Daily AllowanceOther ingredients: De-ionised water.
Per container: 60 ml
Servings per container: 30
Suggested use: 30 drops (2 ml) per day in 250 ml juice or water with or without food.