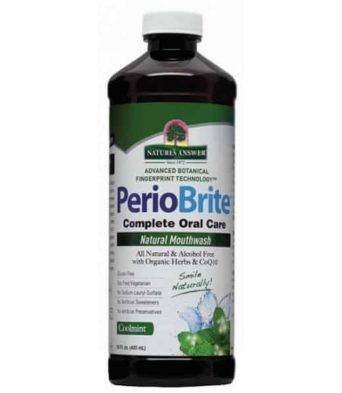 PerioBrite Mouthwash 480ml
Product Description
Alcohol Free Mouthwash with Natural Herbs & CoQ10
All Natural
Natural Cleansing Oral Rinse
Wildcrafted Herbs, Co-Q10 & Folic Acid
Dentist Formulated !
Promotes Healthy Teeth & Gums
Daily cleansing and rinsing with PerioBrite helps promote healthy teeth and gums. This great tasting mouthwash does more than keep breath fresh and clean – it promotes periodontal health.
Dentist formulated PerioBrite supplies soothing herbs well – known for their cleansing action, while Co – Q10, Folic Acid, Oregano, Cinnamon and Clove support tissue and gum health. As part of an oral health program, it naturally moistens gum tissue for long lasting, effective results. PerioBrite energizes your whole mouth with a cool, sparkling minty – fresh sensation.*
Ingredients: Water, Glycerin, Xylitol, Bio-Saponin (Quillaia, Yucca Extract, Sarsparilla Root Extract, Wild Yam Tuber Root Extrac, Peppermint Oil, )**Phytoplenolin® (Centipeda Cunninghamii Extract), Bio-Chelated Extracts: Calendula Flower, Chamomile Flower, Echinacea Purpurea Tops, Gotu Kola Herb, Prickly Ash Bark, Olive leaf, Grapefruit Seed, Black Walnut Green Hulls, Green Tea Leaf, Goldenseal Rhizome, Essential Oils of  Oregano, Rosemary, Lavender, Cinnamon, Clove, Lemon Balm, Eucalyptus, Thyme,  ,  Folic Acid, Aloe Vera (Aloe Barbadensis), Coenzyme Q10, Chlorophyll.
**Phytoplenolin® is a registered trademark of Bio-Botanica® US Patent #5.804.206
No Alcohol
No Synthetic Solvents
No Sodium-Lauryl-Sulfate
No Artificial Sweeteners
No Artificial Preservatives
Suggested use: After brushing, rinse and swish vigorously twice a day with 2 capfuls for 30 – 60 seconds.  PerioClear can also be used as a gargle.  For best results do not eat of drink for 10 minutes after rinsing.  Shake well before use.
Visit your dentist regularly.
Per container: 480 ml