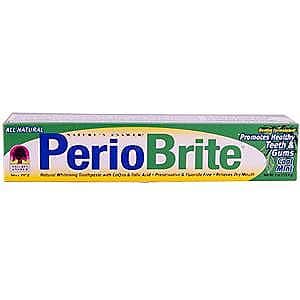 Product Description
Floride-free and preservative-free toothpaste
All Natural
Dentist Formulated
Cool Mint
Preservatives & Fluoride Free
Great for Sensitive Teeth!
Suitable for Entire Family!
Periopaste promotes healthy teeth and gums by offering more than other "natural" toothpastes.  It blends Lysine with key herbs, essential oils and the patented extract of Phytoplenolin in a base that is fluoride-free.  Used regularly, this vegetarian, low abrasive toothpaste naturally whitens teeth and leaves breath fresh and clean for hours.
Ingredients:  Phtyoplenolin Bio-Chelated Extracts of: Calendula Flowers, Chamomile Flowers, Echinacea Tops, Gotu Kola Whole Herb, Prickly Ash Bark, Olive Leaf, Grapefruit Seed, Black Walnut Green Hulls, Green Tea Leaf, Essential Oils of: Peppermint, Oregano, Lavender, Clove, Eucalyptus & Thyme, Cinnamon Bark, Bio-Saponins [Yucca spp, Quillaia (Quillaia saponaria) Bark, Sarsaparilla Root, Wild Yam Root], Folic Acid, Co-Enzyme Q10, Sodium Bicarbonate, Xanthan Gum, , Chlorophyll, L-Lysines, Xylitol, Aloe Vera.
Base Ingredients: Vegetable Glycerin, Purified Water, Calcium Carbonate, Silica.
Free of preservatives, Fluoride, Alcohol, Synthetic Solvents, Sodium-Lauryl-Sulfate, Artificial Sweeteners, Colors and Dyes.
Suggested use: PerioBrite is concentrated – use a pea size amount. Do not swallow. For children 2-6 years of age, supervise until good habits are established. For children under 2 years of age, consult your dental professional or physician.
Visit your dentist regularly.